or "how I learned to stop worrying and love scrolls"
So, when I entered the game about nine months ago, I was handed a huge stack of scrolls that had been passed down and added to by several generations of Celestial Scholars in SF. I think it had been through three or four players before it came to me. But the question was, how do you carry them in a way that you can A. see the tag, B. read the incant clearly, and C. pull them out quickly. When the commander has been charmed and is laying into everyone around him calling "seventeen magic", one doesn't have time to dig through a bag or find where you put your spellbook. It's not like I would have my hands free either, between a wand, a cauliflower, and the packet I'm holding in my right hand. So I started sketching. After a couple prototypes, a working model that I used for several months, and a change of costume, I think I've settled on this scroll bracer design (apologies for the bad angles and the bad stitching):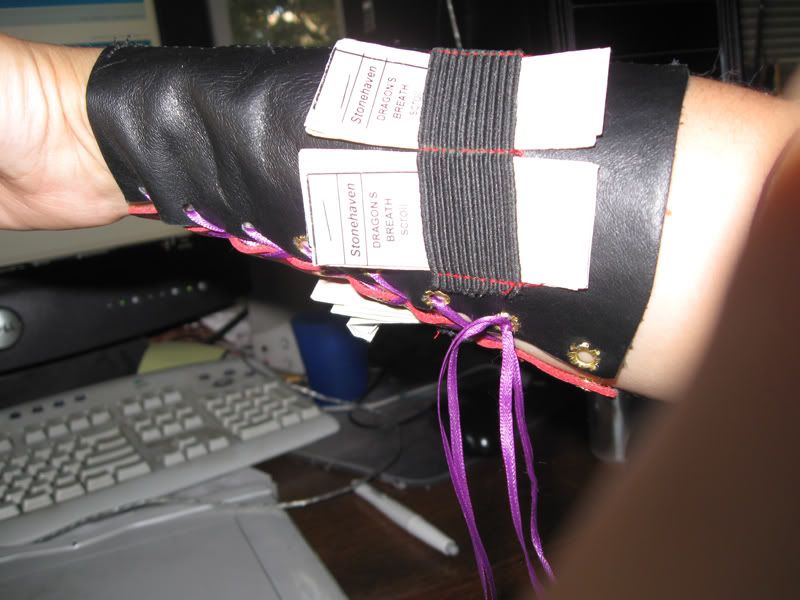 It also works for potions!
Fill that baby up with cures, and I'm a backup healer.
The elastic holds the scrolls in nicely, but as you can see I'm scared the potions will fall out when I'm running, so I just wrap rubber bands around the tops. The downside of this is that you still have to pull them out to cast them. I'm sure other people have thought of similar designs before, but a couple other scholars in SF asked me to make them a set, so I figured that other people might be interested in seeing the design.